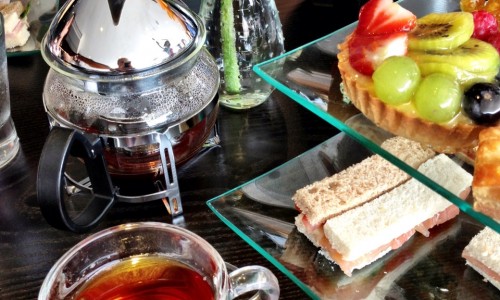 Book Afternoon Tea at Vertigo Lounge for just £13.95 per person. It's jolly good.
If you are looking for a spot of Afternoon Tea in Essex, then you may be surprised to learn that we offer a rather spiffy Afternoon Tea at Vertigo Lounge, full of sandwiches, teas, cakes, and scones.
The history of Afternoon Tea is quite an interesting read, and although the concept may have changed somewhat, Afternoon Tea is still a chance to indulge in an uninterrupted, charmingly quaint, late leisurely lunch.
Afternoon Tea in Essex
Quality and taste go hand in hand, that's why we freshly prepare our sandwiches and use only the finest ingredients. Here's what you'll get when dining with us:
The Food
Selection of finger sandwiches
homemade scones with clotted cream and Jam,
selection of cakes/ mini desserts
 The Tea
We offer a selection of different teas,please ask a member of staff for more information.
Perfect for a special occasion and customisable to your requirements. Why not add a glass of champagne to your Afternoon Tea and make the whole experience just a little bit more merry? We would be more than happy to speak with you about any extra touches you'd like to add. We want to make your Afternoon Tea special.
So if you're looking for something a little more stylish, and if you're not a fan of the doily, Vertigo Lounge offer a marvellous Afternoon Tea in the very heart of Hornchurch. And you may be delighted to know, there's not a floral pattern in sight.
Afternoon Tea must be booked in advance, and if you have any dietary requirements, just let us know.