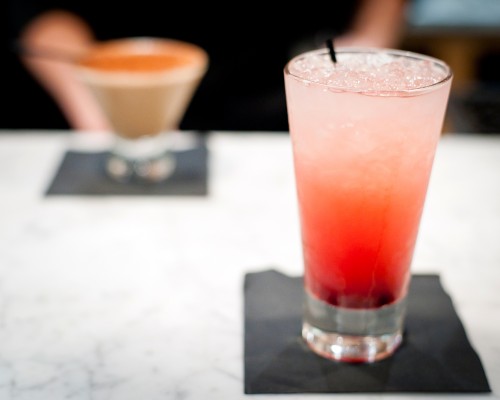 RASPBERRY COLLINS
Bombay Sapphire and Chambord Black Raspberry Liqueur mixed with Fresh Lemon Juice, topped with Lemonade.
TUTTI FRUTTI
Raspberry Vodka, Strawberry Syrup, Fresh Lemon Juice shaken and topped with Lemonade.
BLUE LAGOON
Eristoff Vodka and Blue Curacao topped with Lemonade
ZOMBIE
Bacardi Carta Blanca, Carta Negra and Carta Oro Rum shaken with a drizzle of Chambord Black Raspberry Liqueur, Fresh Lemon Juice, Pineapple and Creme de Banane
RUM PUNCH
Bacardi Oakheart Spiced Rum and Malibu shaken with Pineapple, Orange and Grenadine
COSMOPOLITAN
Citrus Vodka and Triple Sec shaken with Cranberry and Fresh Lime Juice
MARGARITA
Silver Tequila, Triple Sec and Fresh Lime Juice shaken and served in a salt rimmed glass.
BRAMBLE
Bombay Sapphire Gin, Fresh Lemon Juice and Sugar Syrup shaken and served with a drizzle of Creme de Cassis
BACARDI MOJITO
Muddled Fresh Lime, Brown Sugar and Mint with Bacardi Carta Blanca topped with Soda
STRAWBERRY DAIQUIRI
Bacardi Carta Blanca shaken with Strawberry Syrup, Fresh Lime Juice and Sugar Syrup
GODFATHER
Jack Daniels and Disaronno Amaretto topped with Coca Cola
LYNCHBURG LEMONADE
Jack Daniels, Triple Sec and Fresh Lemon Juice topped with Lemonade
FRENCH MARTINI
Eristoff Vodka and Chambord Black Raspberry Liqueur shaken with Pineapple
GREY GOOSE ESPRESSO MARTINI
Grey Goose Vodka, Kahlua and Brown Sugar shaken with a shot of Espresso
TEQUILA SUNRISE
Jose Cuervo Tequila and Orange served over ice and Grenadine
GREY GOOSE LE FIZZ
Grey Goose Vodka and St Germain Elderflower Liqueur mixed with Fresh Lime Juice and Soda
BACARDI DAIQUIRI
Bacardi Carta Blanca shaken with Sugar and Fresh Lime Juice
LONG ISLAND ICED TEA
Eristoff Vodka, Bacardi Carta Blanca, Bombay Sapphire, Silver Tequila and Triple Sec mixed with Fresh Lemon Juice and Coca Cola
PINA COLADA
Malibu shaken with Pineapple and Orange, Coconut Syrup and Cream
DISARONNO SOUR
Disaronno Amaretto shaken with Fresh Lemon Juice and Sugar Syrup
SEX ON THE BEACH
Eristoff Vodka, Peach Schnapps mixed with Pineapple, Orange and Cranberry Juice
WOO WOO
Eristoff Vodka and Peach Schnapps topped with Cranberry Juice
BACARDI CUBA LIBRE
Bacardi Carta Oro served long with Fresh Lime juice and Coca Cola
PORNSTAR MARTINI
Vanilla Vodka, Passoa, Passionfruit Syrup and Orange shaken and served with a shot of Vedova Brut
SPARKLING COCKTAILS
APEROL SPRITZ
Aperol topped with soda and Prosecco
CHAMBORD ROYALE
Chambord Black Raspberry Liqueur topped with Rose Prosecco
BELLINI
Prosecco mixed with a flavour of your choice. Choose from: peach, strawberry, passionfruit or raspberry
KIR ROYALE
Prosecco mixed with creme de cassis
VERTIGO VIRGINS
FRUIT PASTILLE
Cranberry and orange juice shaken with strawberry puree and sugar syrup
ELDERFLOWER COLLINS
Elderflower cordial, fresh lemon juice and vanilla syrup shaken and topped with soda
PINA UN-COLADA
Pineapple and orange juice shaken with coconut syrup and double cream